2010 PSWT Lehre // 2010 PSWT Curriculum
Update (2011-12-16): This post is getting out-of-date. Please use the courses category on this blog.
The Open Source Research group teaches as part of the Praktische Softwaretechnik (applied software engineering) research and teaching alliance. Please find below our teaching plans for WS 2010 onward or review the overview PDF (content equivalent). A separate spreadsheet shows in more detail which degree program can take which class.
Dozenten // Lecturers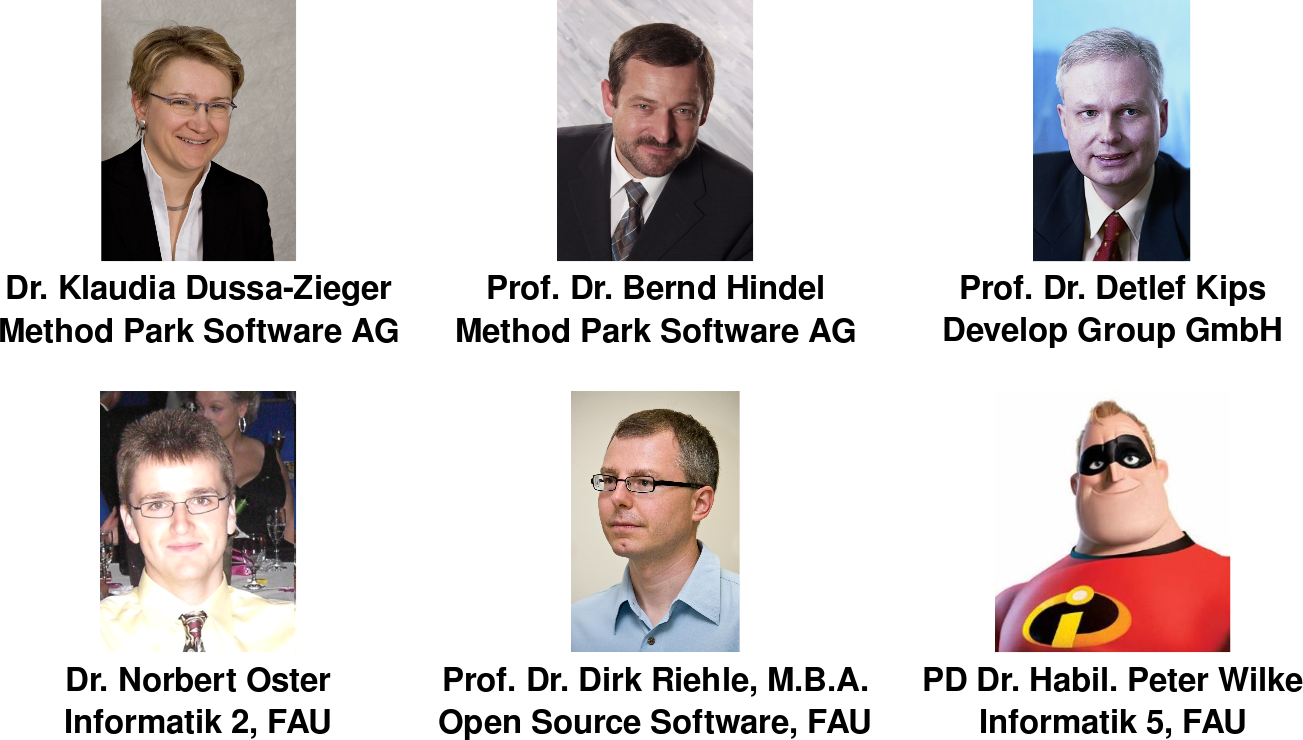 PSWT Lehrangebot und -Fluss // PSWT Classes and Dependencies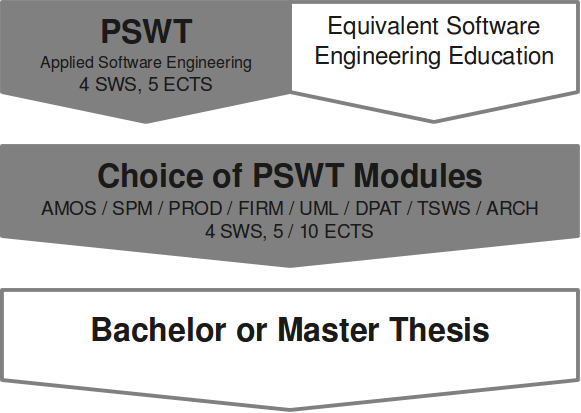 Das Studium der Praktischen Softwaretechnik beginnt mit der Grundlagenvorlesung PSWT. Diese Vorlesung muss im Kontext der meisten Studiengänge gehört werden.

Die PSWT Grundlagenvorlesung vermittelt Ihnen einen guten Überblick über alle Themen, welche Ihnen in den späteren Vertiefungsveranstaltungen wieder begegnen werden.

Im Regelfall sollten Sie die Grundlagenvorlesung PSWT belegen, bevor Sie eine der spezialisierten Veranstaltungen hören.

Nachdem Sie PSWT gehört haben, können Sie je nach Wunsch die verschiedenen zur Verfügung stehenden PSWT Lehrveranstaltungen besuchen.

Zum Abschluss Ihres Studiums können Sie unter Anleitung eines PSWT-Professors eine Abschlussarbeit anfertigen. Sie können selbstverständlich auch andernorts Ihre Abschlussarbeit ausführen.

Your studies of Applied Software Engineering start with the main overview class, called PSWT. This class is mandatory under most circumstances.

The main PSWT class provides a good overview of most software engineering topics, your understanding of which you'll deepen in later specialized classes.

We suggest that you take the main PSWT class first, before you take any of the more specialized classes.

Depending on your major discipline, you can then select several of the PSWT classes to complete your degree's requirements.

You finish your studies with your final thesis, which can be done under the supervision of a PSWT professor or in a different field.
PSWT Überblick Lehre // PSWT Teaching Overview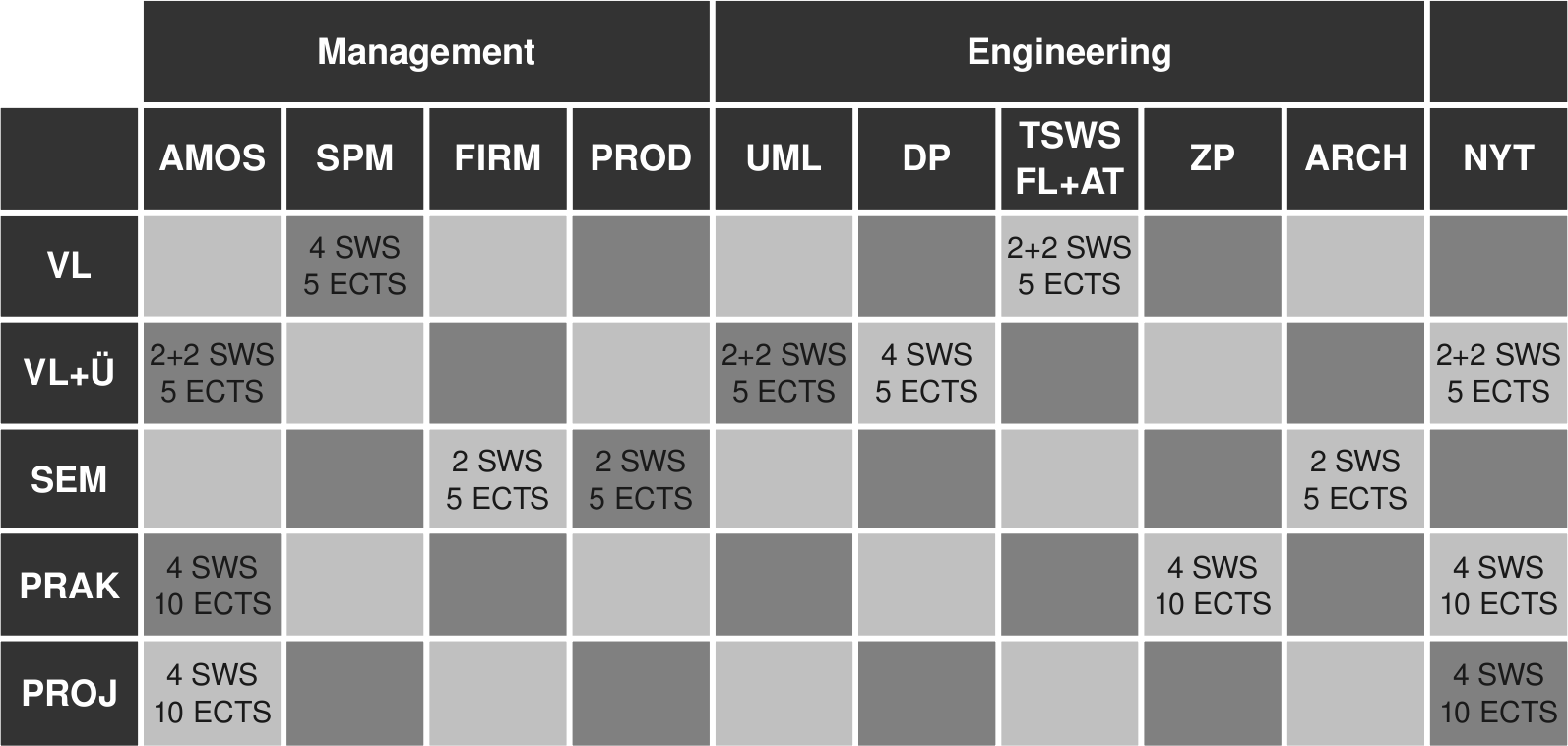 | | | | |
| --- | --- | --- | --- |
| WS | PSWT | Praktische Softwaretechnik | Applied Software Engineering |
| WS | SPM | Software-Projektmanagement | Software Project Management |
| WS | DP | Entwurfsmuster | Design Patterns |
| WS | TSWS-AT | Testen von Softwaresystemen, Advanced Topics | Software System Testing, Advanced Topics |
| WS | ZP | Zeitplanungsprobleme | Zeitplanungsprobleme |
| WS | ARCH | Software-Architektur | Software Architecture |
| WS | NYT | Nailing your Thesis | Nailing your Thesis |
| SS | AMOS | Agile Methoden und Open Source | Agile Methods and Open Source |
| SS | PROD | Produktmanagement | Product Management |
| SS | FIRM | The Firm | The Firm |
| SS | UML | Objektorientierte Analyse und Entwurfsmethodik mit UML | Object Oriented Analysis and Design Methods with UML |
| SS | TSWS-FL | Testen von Softwaresystemen, Foundation Level | Software System Testing, Foundation Level |
Die PSWT Lehre bietet sowohl Management- wie auch technisch-orientierte Lehrveranstaltungen. Management-orientierte Veranstaltungen umfassen AMOS, welches Agile Methoden und Open Source Praktiken vermittelt, SPM, welches Software-Projektmanagement lehrt, FIRM, ein Seminar, welches die wesentlichen Funktionen einer Softwarefirma vermittelt, und PROD, ein Seminar zum Thema Produktmanagement.

Technisch-orientierte Lehrveranstaltungen umfassen UML, welches objektorientierte Analyse und Entwurf mit UML lehrt, DP, welches objektorientierten Entwurf mit Entwurfsmustern lehrt, ARCH, ein Seminar zum Thema Software-Architektur, und TSWS, welches Qualitätssicherung mittels Testverfahren von Softwaresystemen vermittelt. TSWS besteht aus zwei separaten Vorlesungen, von denen die eine Grundlagen und die andere fortgeschrittene Konzepte vermittelt.

Zusätzlich gibt es NYT ("Nailing your Thesis"), eine Veranstaltung, die zum wissenschaftlichen Arbeiten ausbildet.

Alle Veranstaltungen haben einen zweisemestrigen Turnus.

PSWT teaching includes both managerial and engineering classes. Managerial classes comprise AMOS, which teaches Agile Methods and Open Source practices, SPM, which teaches software project management, and FIRM, a seminar on the various business functions of a software firm, and PROD, a seminar about product management.

Engineering classes comprise UML, which teaches you object-oriented analysis and design using UML, DP, which teaches your object-oriented design using design patterns, ARCH, a seminar on software architecture, and TSWS, which teaches you quality assurance through test methods of software systems. TSWS is split into a foundation level and an advanced topics class.

In addition, we offer NYT ("Nailing your Thesis"), a class that teaches you how to perform research.

All courses repeat every second semester.
INF-Diplom Module // INF-Diplom Modules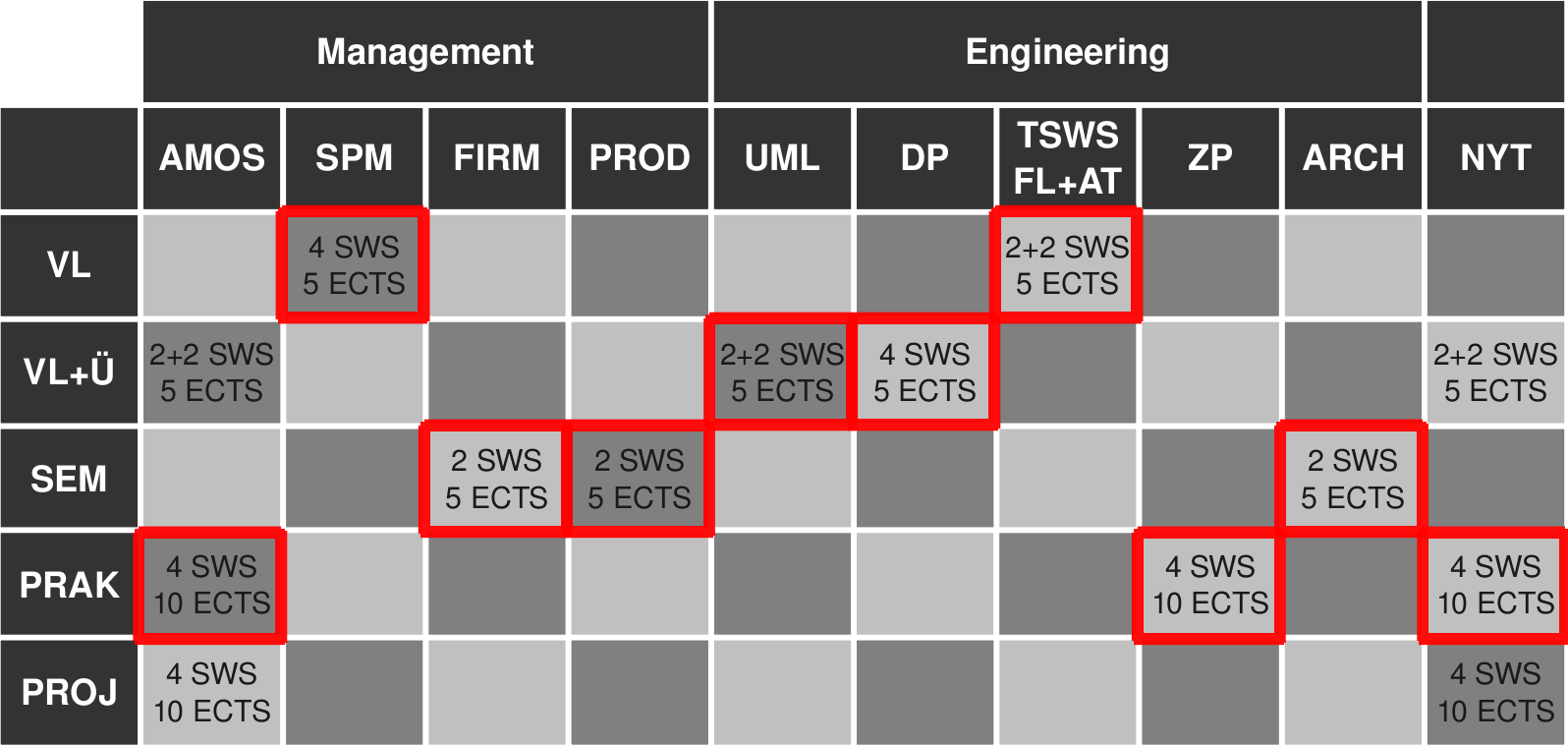 INF-Diplom Studienplan // INF-Diplom Curriculum
SE Modell B als Prüfungsfach

Grundlagenvorlesung PSWT + 4 SWS Vertiefungsveranstaltungen
Mündliche Prüfung über gehörte Inhalte von insg. 8 SWS

SE Modell B als Vertiefungsfach

Zusätzlich zu PSWT als Prüfungsfach 4 SWS PSWT Veranstaltungen
Benoteter Schein für zusätzliche Veranstaltungen

Der Erwerb benoteter Scheine ist für alle Veranstaltungen möglich

SE Model B as Prüfungsfach

Foundational class PSWT + 4 SWS specialized classes
One oral exam for classes taken totaling 8 SWS

SE Model B as Vertiefungsfach

In addition to PSWT as Prüfungsfach 4 SWS PSWT classes
Graded certificate for additional classes necessary

Graded certificates can be received for any PSWT class
INF-Bachelor Module // INF-Bachelor Modules
Modules marked green are unique Bachelor modules, modules marked red are Master modules made available to Bachelor students.
INF-Bachelor Studienplan // INF-Bachelor Curriculum
PSWT Grundlagenvorlesung

Muss als Wahlpflicht genommen werden
Ist Voraussetzung für weitere Module

Wählbare Module

Wahlpflicht (5 ECTS): SPM, PROD, UML, DP, TSWS FL + AT
Praktikum (10 ECTS): AMOS, NYT

Benotung der Studienleistung

Wahlpflicht: Benoteter Schein, Notenfindung veranstaltungsabhängig
Praktikum: Benoteter Schein, Notenfindung veranstaltungsabhängig

PSWT foundational class

Needs to be taken as a Wahlpflicht class
Is precondition for all other modules

Elective modules

Wahlpflicht (5 ECTS): SPM, PROD, UML, DP, TSWS FL + AT
Praktikum (10 ECTS): AMOS, NYT

Grading of modules

Wahlpflicht: Graded certificate, grading scheme depends on class
Praktikum: Graded certificate, grading depends on class
INF-Master Module // INF-Master Modules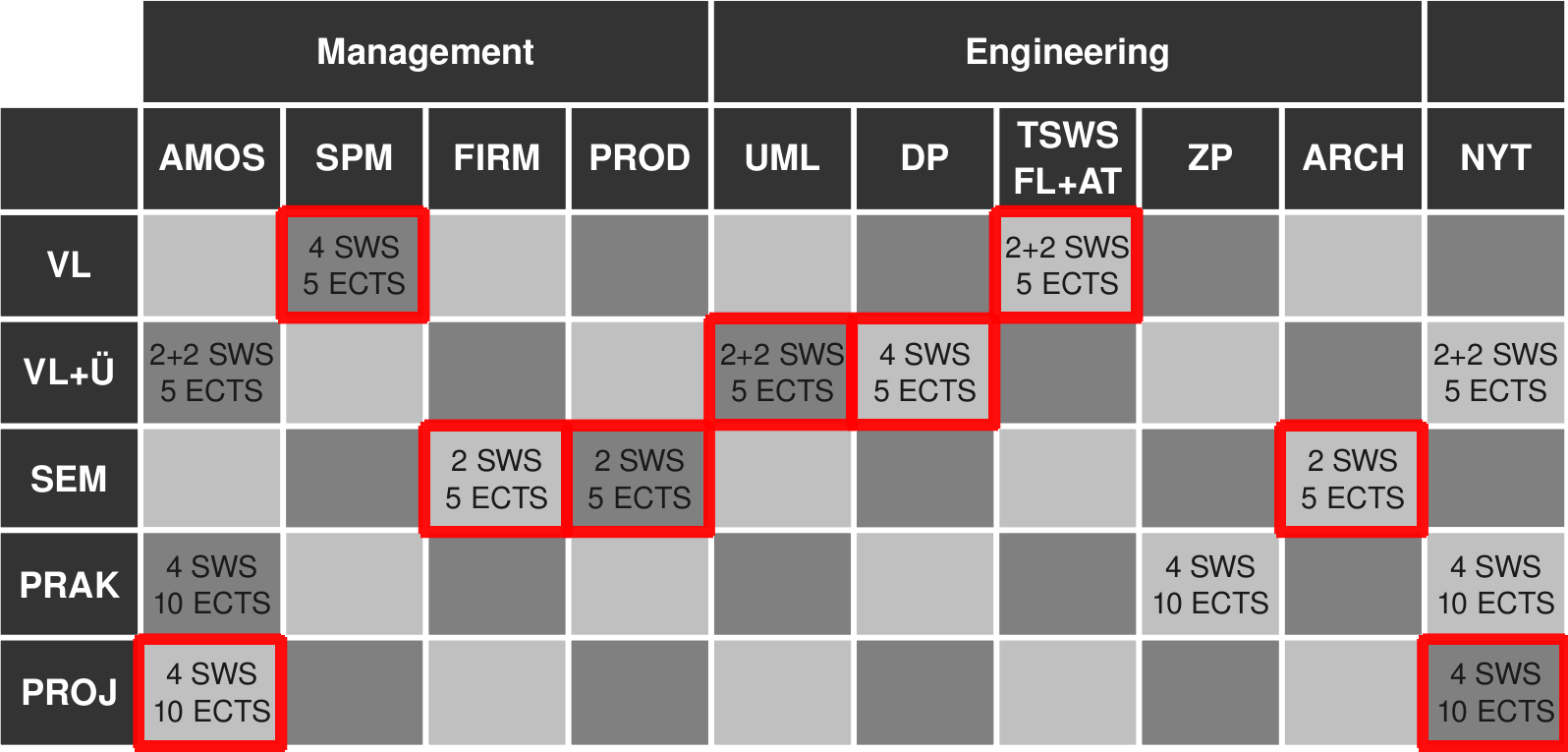 INF-Master Studienplan // INF-Master Curriculum
PSWT Grundlagenvorlesung

Ist Voraussetzung für weitere Module

Wählbare Module

Wahlpflicht (5 ECTS): SPM, PROD, FIRM, UML, DP, TSWS FL+AT, ARCH
Projekt: (10 ECTS): AMOS, NYT

Benotung der Studienleistung

Wahlpflicht: 30min Prüfung oder benoteter Schein, Notenfindung veranstaltungsabhängig
Projekt: Benoteter Schein auf Basis aktiver Mitarbeit und Ergebnisse

PSWT foundational class

Is precondition for further modules

Elective modules

Wahlpflicht (5 ECTS): SPM, PROD, FIRM, UML, DP, TSWS FL+AT, ARCH
Projekt: (10 ECTS): AMOS, NYT

Grading of class

Wahlpflicht: 30min oral exam or graded certificate; certificate grading scheme depends on class
Projekt: Graded certificate based on class participation and results
IIS Module // IIS Modules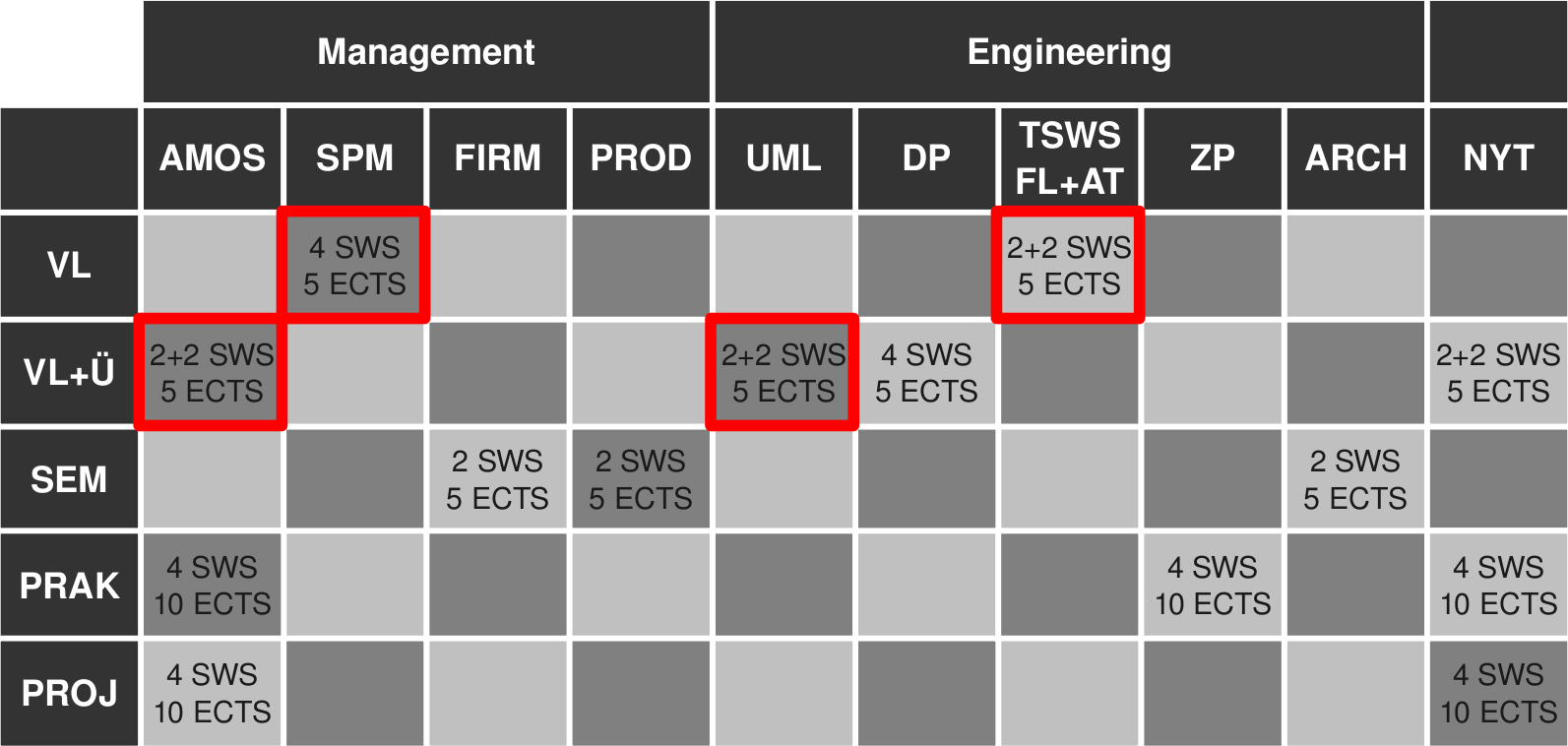 IIS Studienplan // IIS Curriculum
PSWT Grundlagenvorlesung

Ist Voraussetzung für weitere Module

Wählbare Module

Wahlpflicht (5 ECTS): AMOS, SPM, UML, TSWS FL+AT

Benotung der Studienleistung

Wahlpflicht: 30min Prüfung oder benoteter Schein, Notenfindung veranstaltungsabhängig

PSWT main class

Is precondition for further modules

Elective modules

Wahlpflicht (5 ECTS): AMOS, SPM, UML, TSWS FL+AT

Grading of class

Wahlpflicht: 30min oral exam or graded certificate, grading scheme depends on class