Upcoming Industry Talk on Software Startups and Entrepreneurship by Holger Dyroff and Richard Seibt
We will host an open questions and answers session on software startups and entrepreneurship in PROD, the product management course, next week:
by: Richard Seibt and Holger Dyroff
about: Software Startups and Entrepreneurship
on: 2014-07-01, Tuesday, 10:30 – 12:00
at: Cauerstr. 6, Room 0.111
as part of: PROD
Abstract: We will start the with an interview of Holger Dyroff and Richard Seibt by Dirk Riehle and then open up the session to questions from the audience.
Speakers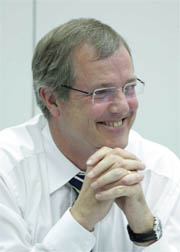 Nach einer langen Karriere bei SUSE gründete Holger Dyroff ownCloud gemeinsam mit Markus Rex und Frank Karlitschek. Er verantwortet alle Aspekte des ownCloud Partnerprogrammes und unterstützt strategische Partner und Service Provider bei Marketing, Vertrieb und technischen Werkzeugen um ein erfolgreiches Wachstum sicherzustellen. Holger Dyroff fungierte über 19 Jahre in leitenden Positionen der Open-Source Branche, insbesondere im Auf- und Ausbau von Open Source Unternehmen und Märkten. Er kam 1993 zu SUSE und entwickelte die ersten Channel- und Marketing-Programme und Produktangebote. Von 2001 bis 2004 war er SUSEs General Manager Amerika, baute dort eine Partner Community auf und realisierte fundamentale Großkundenverträge. 2004 kehrte er als Leiter des Produktmanagements und Marketings zu SUSE Deutschland zurück. Als Vice President Business Development trug er eine führende Rolle bei der Gewinnung von OEM-Kunden und der Entwicklung neuer Partnerschaften, insbesondere im Bereich Cloud Computing. Holger Dyroff ist weiterhin Stellvertretender Vorsitzender der Open Source Business Alliance, der größten Open Source Unternehmensorganisation in Zentraleuropa.
Richard Seibt besitzt 30 Jahre internationale Erfahrung in der IT Industrie. Er war Geschäftsführer von IBM Deutschland und später als Vice-President verantwortlich für die IBM Software Group North America. 1998 wurde Richard Seibt Vorstand der United Internet AG und 2003 CEO der SuSE Linux AG. Nach der Übernahme von SuSE durch Novell übernahm er die Position des President of Novell EMEA. Richard Seibt gründete die Open Source Business Foundation (OSBF), deren Vorstandsvorsitzender er seitdem ist. Herr Seibt ist Aufsichtsratsmitglied zahlreicher Software Firmen – meist mit Open Source Business Modell.